FOR IMMEDIATE RELEASE


The Preeminent Pocket-Sized Précis of Passion
(The Best Little Book on Love Available)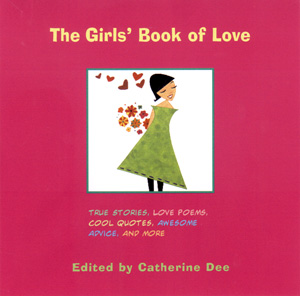 THE GIRLS' BOOK OF LOVE
Cool Quotes, Super Stories, Awesome Advice, and More
This irresistible collection of quotes, true stories, poems, lyrics, and trivia celebrates the popular and timeless themes of love and romance. This entertaining book for preteens and teens (as well as romance lovers of all ages) features enlightening and just plain practical quotes from more than 175 girls and women, including Jennifer Love Hewitt, Maya Angelou, Madonna, and Sarah Jessica Parker. Also includes eye-opening quotes from a host of magnificent males,including Martin Luther King, Jr., Brad Pitt, and Justin Timberlake.
With sage advice and revelations on everything from crushes to first dates to soulmates, The Girls' Book of Love is the ultimate little guide to dating and relating.

* * *

Northern California-based Catherine Dee is the author of several award-winning books for girls, including The Girls' Book of Wisdom, The Girls' Book of Friendship, and The Girls' Guide to Life. For more information about her books and girls' self-esteem, visit empowergirls.com.
A Megan Tingley Book
By Catherine Dee
Illustrated by Ali Douglass
October 2002 * $9.95 * 0-316-17404-1