About Catherine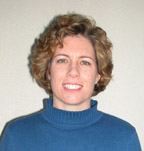 After attending a girls' school (Santa Catalina) and getting a B.A. from Pomona College, Catherine became an advertising copywriter. She then joined a small publisher in Berkeley, Calif., where she wrote and edited books including The Recycler's Handbook, Kid Heroes of the Environment, and The Women's Voting Guide.
While working on the Voting Guide, Catherine realized that there were very few books available to help girls develop good self-esteem and stand up for themselves. To help girls deal with this, she wrote The Girls' Guide to Life: How to Take Charge of the Issues That Affect You (Little, Brown & Company.

Next came a companion book of empowering quotations, The Girls' Book of Wisdom, followed by The Girls' Book of Friendship, The Girls' Book of Love, and The Girls' Book of Success.
The various titles have been translated for distribution in Japan, Thailand, and Bulgaria, and Hallmark published a Gold Crown edition of The Girls' Book of Friendship.

Awards
Amelia Bloomer Project: Girls' Guide to Life, 2007
New York Public Library: "Books for the Teen Age" Girls' Guide to Life, 2006
American Literacy Corporation: ALC Literary Award, 2005

American Library Association: "Popular Paperback for Young Adults" and "Quick Pick for Reluctant Young Readers", Girls' Book of Wisdom, 2000

Disney Adventures: Best Book, Girls' Book of Wisdom, 1999
Women's National Book Association: "Eighty Books for 21st Century Girls,"Girls' Guide to Life, 1997
San Francisco Chronicle: "Best Bet," Girls' Guide to Life, 1997

Contact

cate@empowergirls.com

P. O. Box 1964
Orangevale, CA 95662